Gazza avoids bankruptcy threat over tax debt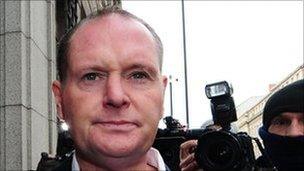 Former England footballer Paul Gascoigne has avoided the threat of bankruptcy by promising to pay off his tax debts.
Gascoigne owes more than £30,000 to Her Majesty's Revenue and Customs (HMRC).
At the High Court in London a petition against the Tyneside-born 43-year-old was adjourned for six weeks, and he was ordered to pay £28,000 by 2 March.
Inderjit Singh Ahluwalia, representing HMRC, said this would be his final chance to avoid bankruptcy.
Gascoigne was represented by a financial advisor and did not appear in court.
At the peak of his career he was one of football's highest-paid stars, reported to be worth £14m.
He became a millionaire when he was transferred from Newcastle to Spurs in 1988, and later secured a £1.25m deal with Italian club Lazio.
As star of the England squad, he won sponsorship deals worth more than £5m with sports clothing manufacturers and also with Walkers crisps.
Since quitting football he has battled alcoholism, and in December was given a suspended prison sentence and an alcohol treatment order after admitting drinking and driving.
Related Internet Links
The BBC is not responsible for the content of external sites.