Accused froze after Raoul Moat shot Pc David Rathband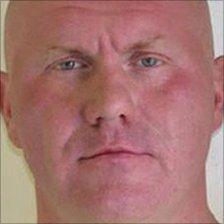 One of the men accused of helping Raoul Moat told how he froze after the gunman shot a policeman.
Pc David Rathband was blinded when he was shot in the face as he sat in his patrol car on a Newcastle roundabout.
Karl Ness, 26, told Newcastle Crown Court he feared the worst when Moat got out of their vehicle and headed towards the patrol car on 3 July.
He denies the prosecution claim that he was a "willing accomplice" to the gunman.
Moat, 37, was on the run after shooting his ex-partner Samantha Stobbart and killing her partner Chris Brown.
Mrs Ness told the court he had been too frightened to run away when Moat headed for Pc Rathband's car, which was parked on an A1 roundabout in the west of Newcastle.
He said: "I thought he was out to get a policeman. I said: 'This is crazy'.
"I did not do anything because I did not think it was safe to get away."
He said he saw Moat run to the top of the sliproad.
He said: "He disappeared behind a concrete barrier. Then I heard a bang and about two seconds later another one.
"Then I seen Raoul come sprinting back down.
"He ran round the side of the car and jumped into the back seat and shouted: 'Go,go,go'.
"I just froze. There was a burning smell. Raoul had a nervous giggle.
"He said: 'I don't think he's dead'.
"I never said a word. I was scared."
Pc Rathband was in court to hear the evidence.
Mr Ness said that shortly after shooting Pc Rathband, Moat spotted a dead badger at the side of the road.
He told the court Moat ordered his co-accused Qhuram Awan, 23, to stop.
He said Moat picked up the badger and threw it at the windscreen and later ordered Mr Awan to buy a needle and thread so he could sew the remains into a hat.
Cross-examining Mr Ness, Robert Smith QC asked him why he had helped Moat.
He said: "I was scared, terrified. Frightened for my family's welfare and safety.
"I felt really sick about what Raoul had done. I was in shock."
Mr Smith said he had helped Moat despite knowing he was violent and unpredictable and meant to harm his ex-girlfriend and her partner.
Mr Ness said: "By then I knew Raoul was not a nice bloke. He was a monster."
Mr Ness, of Brookside in Dudley, North Tyneside, denies the murder of Mr Brown, attempting to murder Pc Rathband, conspiracy to murder, possession of a firearm with intent to endanger life and robbery.
Mr Awan, of Rowley Street in Blyth, Northumberland, denies the attempted murder of Pc Rathband, conspiracy to murder, possession of a firearm with intent to endanger life and robbery.
Related Internet Links
The BBC is not responsible for the content of external sites.