Firefighters tackle Gateshead riverside blaze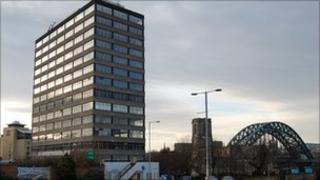 More than 40 firefighters tackled a blaze at a derelict building on the banks of the River Tyne in Gateshead.
The 13-storey Tyne Bridge Tower is close to the Sage music complex and the medieval St Mary's Church.
Tyne and Wear Fire and Rescue Service said the fire broke out early on Friday in a lift shaft between the sixth and seventh floors.
There were no reported injuries. An investigation is under way in an effort to establish the cause of the fire.
The building, which is in a conservation area, was used by the Inland Revenue until June 2005 and has been standing empty since then.
Plans were recently approved to demolish the building and for the site to become a key part of the regeneration of Gateshead's central west area.
A spokesman for regeneration agency One North East, which owns the building, said: "The fire was quickly extinguished by firefighters from Tyne and Wear Fire and Rescue Service.
"No-one was hurt in the incident and demolition work has resumed on site.
"Site managers are working with the fire brigade to establish the cause of the fire, which is not being treated as suspicious."