Passengers' 'panic' as Flybe plane wheel falls off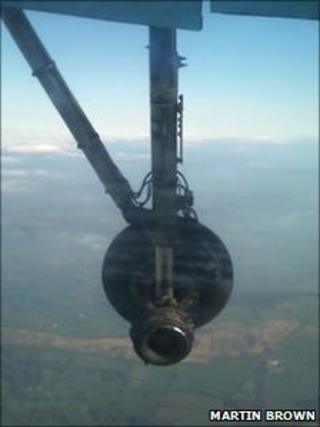 Passengers have told of their fear after realising the plane they were travelling in had lost a wheel.
The Flybe Bombardier Q400 took off from Exeter International Airport bound for Newcastle at 1225 GMT on Thursday, with 39 passengers on board.
A wheel detached shortly after take-off, forcing the plane to circle for about 90 minutes before landing.
No-one was injured. The UK Air Accidents Investigation Branch is investigating.
Christine Jackman from Newcastle was on the flight.
She said: "I got my telephone out and sent my partner a goodbye message which does seem silly now, knowing I'm standing and back at work today, but at the time it was a frightening experience."
She said a colleague of hers noticed the tyre leave the plane as they took off.
They advised the staff, who she said dealt with the situation in an "extremely professional" manner.
'Quite shocking'
She described the next hour and a half as they were circling the skies above Exeter as "panic".
She added: "It was quite shocking and I don't think the reality of the situation took place until we had landed and saw the emergency services waiting for us. That was quite alarming."
Colin Campbell was on his way to see his parents after recovering from meningitis.
He said: "When we got into the crash positions just before we landed it was that quiet you could hear a pin drop, it was dead silence.
"All you could hear was head down, head down, head down. It just seemed ages before it hit the ground."
A Flybe spokesman said: "The Q400 aircraft was operating a flight from Exeter to Newcastle with 39 passengers and four crew on board when, on retraction, one of the wheels detached itself on to the runway.
"The aircraft landed safely without further incident; all passengers left the aircraft as normal by means of the aircraft steps.
"The safety of its passengers and crew is Flybe's number one priority.
"Flybe operates the world's largest fleet of Q400 with 58 aircraft with an average age of 4.1 years that safely operate over 100,000 flights a year."
Passengers were put on a later flight which landed without incident at Newcastle.