Flood emergency exercise for Morpeth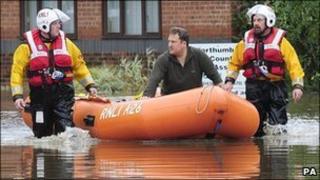 An emergency exercise is to be held in a Northumberland town which was devastated by flooding in 2008.
About 1,000 homes and businesses in Morpeth were affected when a month's rainfall fell in one day.
Plans that have been put in place to minimise the impact of any future flooding will be tested on Saturday.
Volunteer wardens will liaise with representatives of the Environment Agency, Northumberland County Council, police and fire officers.
The flood wardens have sub-divided the flood warning zones in Morpeth into eight sub-zones, and it is proposed that each zone will have a lead warden.
Alan Bell, one of the local flood wardens, said: "The exercise will be a test of how well prepared the wardens are should there be an actual event.
"We hope to build on the experience and identify any shortcomings in the plan so that they can be integrated into the County Flood Action Plan, with the aim of ensuring the safety of Morpeth residents."
Richard Robinson, Environment Agency flood incident management team leader, said: "The exercise is a great opportunity for volunteer flood wardens to work with professional partners and gain useful experience which will prepare them for an incident.
"We would encourage more people to get involved as flood wardens and help their community in this way."