BBC Introducing: Boy Jumps Ship from Sunderland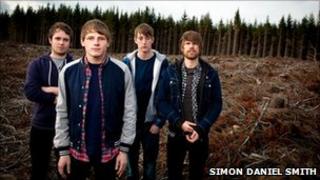 They've released their own EP, played their own gig at the O2 Academy in Newcastle and even had their passports taken off them by Belgian Police.
Boy Jumps Ship's career looks promising - they've already shared the stage with The Futureheads and the Little Comets and have been named the 'ones to watch 2011' by Rock Sound.
2011 it set to be a good year for the four-piece rock band from Sunderland.
With more hard work, touring and song writing, their career is set to soar.
The band is made up of Si Todd (lead vocals, guitar), Jonathan Douglas (backing vocals, guitar), Jonny Rob (bass, backing vocals) and Gav Gates (drums, backing vocal).
They met each other at college and after playing in separate bands they decided to form their own band Boy Jumps Ship (get it?).
They released their first self-titled EP and played their first official show in March 2010 - since then they have pushed themselves constantly, writing, recording and playing as many gigs as they can.
Energetic sound
Lead vocalist, Si, said: "While we all like many of the same bands, we also have very different tastes when it comes to music and I think that makes for a very interesting sound. We're a rock band with a big, energetic sound.
"The main thing that inspires us as musicians is seeing our heroes still playing and making the best music of their careers after years of churning out albums.
"That type of longevity is something we definitely strive for as a band. Some of our favourite bands and biggest influences are Biffy Clyro, Taking Back Sunday and Brand New."
In November they played their first big home gig at a crowded O2 Academy in Newcastle and then set off on a tour around Europe - in true rock 'n' roll style.
Si said: "The shows were great, the food was great and the people were really welcoming, it was just an amazing experience for us.
"We also had one of our funniest moments during the same trip when the Belgian police took our passports off us temporarily.
"We slept in our van after the show and there was a load of rubbish outside of the venue in the morning after the party (which didn't belong to us).
"Needless to say we got the blame and had to clean it all up ourselves, then we were asked to leave the town."
See the bands upcoming gigs on Boy Jumps Ship Events & Shows on Myspace.