BBC Introducing: Vinyl Jacket from Newcastle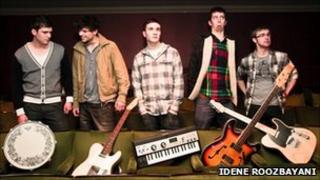 Vinyl Jacket have only been together for a year - but in that short time their music career has soared.
They've featured on Radio 1's The Chris Moyles' Show, they've been Huw Stephen's track of the week and they've supported the Little Comets on tour.
After a whirlwind year and establishing themselves as ones to watch - they're now heading off on their own UK tour in April.
With the honour of opening Gateshead's Evolution Festival on their return.
Vinyl Jacket are made up of five members from Newcastle - Ben Dancer (vocals, guitar), Jack Dancer (bass, vocals), David Pullen (drums, vocals), Sam Quilliam (synthesizer, vocals) and Andrew Roberts (guitar, vocals).
They all grew up together and were part of the same musical group from a very young age, which is something the band feel is key to their success.
Guitarist Ben, said: "We seem to have quite a diverse range of musical tastes which has greatly helped as we continue to develop our own 'groove'.
"We pride ourselves mainly on being 'twiddletastic', our live percussive elements and perhaps our harmonies, which hopefully give us a unique kind of energy in our live shows."
Painting Stations
Inspired by bands Everything Everything, Little Comets and Talking Heads, their long friendship has helped the band develop and find exactly where they feel their niche lies.
Only formed in January 2010, the band have gone from strength to strength in just over one year.
They played their first festival in October 2010 at Manchester's In The City.
Ben said: "It was great to be involved in such a pressure-cooker of an environment with so many industry figures to meet and greet.
"It was probably the first time we realised that we had a big opportunity to push things forward with our music."
Their popularity has grown after their recently released single Painting Stations, was played on the BBC Introducing feature on Radio 1's The Chris Moyle's Show.
Ben said: "It was slightly surreal to hear the big man [Chris Moyles] blabber on and take the mick out of my name (Ben-Dover was the best he could come up with) but in general they seemed to really like our song.
"Although it didn't make the playlist it gave us great free publicity and we have since had incredible support from people right across the world."
The future for Vinyl Jacket looks promising with their own tour kicking off in April, culminating on Royal Wedding day, Friday 29 April.
Ben joked: "There is a rumour that we are holding the official Royal Wedding after-party but not sure if we're allowed to confirm that information yet..."