BBC Introducing: We Beat The System from Sunderland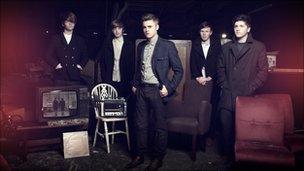 They've already played at the O2 Arena in London, supported Frankie & The Heartstrings and performed at the Split Festival in their hometown.
We Beat The System from Sunderland, have had quite the start to their music career and it looks like they have a promising future ahead of them.
Formed in 2009, their career propelled in a few months after beating 10,000 acts to win Live and Unsigned 2010.
Now they are set to play Evolution Emerging in Gateshead in May.
Influenced by the likes of Editors, White Lies and Radiohead, post-punk We Beat The System are a five piece band.
Made up of Daniel Mason (vocals), Jonathan Gray (guitar), Martin Dagg (guitar), Jon Sandwith (bass guitar and backing vocals), and David Burlace (drums) - the childhood friends' love of music and close relationship seems to be the secret to their success.
Drummer David, said: "Music, quite justifiably, is our main passion that we share not just as a band but mainly as best friends.
"We've grown up together, three of us living on the same estate, and playing gigs, writing songs and attending gigs together really helps us express what we love."
In 2010 the band won Best Alternative Act at the Live and Unsigned competition, performing in front of their biggest crowd and impressing judges Noddy Holder, BBC Radio 1's Annie Nightingale, Kerrang's Alex Baker and RnB star Shola Ama to be crowned the winners.
David said: "Playing at the O2 Arena in London was very special. It's a venue that people dream about. Playing on a stage in which the likes of Coldplay and The Who have graced was an honour.
"We try to create music which is uplifting and memorable, there is something special about coming away from a gig and being left with a massive impression."
After a whirlwind start to their career, 2011 looks to be just as busy - hoping to release their first single and playing at the Evolution Emerging in May.
David said: "As it's going to be our first release, we're wanting it to be special and hard hitting. We really want to get the ball rolling.
"We are privileged to be playing Evolution Emerging in May, it's a festival we've all attended from a young age so it's going to be exciting."
Find out more about We Beat the System on their MySpace page.
Related Internet Links
The BBC is not responsible for the content of external sites.