BBC Introducing: The Vaudeville Class from Sunderland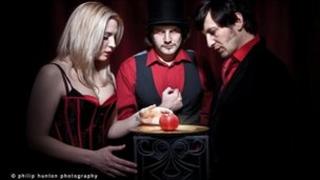 A collection of bands which "sound the same" inspired Paul Daly and Laura Stevenson to do something different.
The two friends from Sunderland formed The Vaudeville Class, a band which they claim has "something for everyone".
They formed in 2005, already have their first single under their belts and were delighted to play Sunderland's Split Festival in 2010.
The band are currently hoping to release their yet untitled album later this year.
For everyone
"Music evokes such vivid memories, it can make you laugh, cry or become massively melancholic," says Laura who plays bass guitar and sings.
She explains the band's name: "The Vaudevillian movement was not for the upper class or for the lower classes, in fact it was for everyone.
"It spanned the genres much like the Vaudevillian theatres spanned the classes.
"So we invite all our fans to not be bound by labels and join The Vaudeville Class."
They both felt passionate about wanting their band to sound different from all of the rest.
Paul says: "Our fans have dubbed us 'dirty blues'.
"The entire ethos of the band was that there was hopefully something in it for everyone and wasn't bound to any one genre."
Laura adds: "Because I didn't want our sound to be just indie or rock or pop for that matter, I wanted it to be everything we liked."
To find out more about The Vaudeville Class visit their Facebook group.