Rare fishing boat relaunched on River Tyne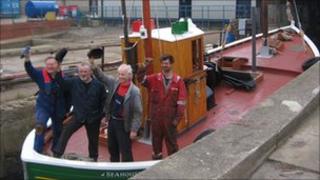 A historic fishing boat has been relaunched on the River Tyne after major renovation work.
The Sovereign was built in 1936 but was de-registered in 2009 when she needed to be refurbished.
Rare boatbuilding skills were needed to get the vessel back to a working state and ready for a relaunch 75 years after its original launch.
Fred Crowell is the last boatbuilder between Amble and Hull and he has worked on the vessel for 10 months.
He explained what work was needed: "A lot of woodwork has been done, new masts have been made, decking has been repaired, complete paint job inside and out and it's now looking very smart.
"It's a pleasure for me to do the work and I enjoy doing the work. I can say it's a job well done."
Royal Navy
The 43-feet boat was requisitioned by the Royal Navy during World War II.
It returned to the north-east of England and returned to fish off Seahouses in Northumberland in 1960 and then onto North Shields.
Mr Crowell shares the secret of the ship's name: "It was traditional to bury a coin somewhere on the vessel, so the vessel always had money to rely on.
"[The sovereign coin] should be beneath the mast, but on this one it's underneath a bollard."
Peter Weightman is a trustee of the North East Maritime Trust said: "The vessel is possibly a unique example of a pre-war fishing vessel.
"There are one or two that have been converted, or butchered I would say, but this has been restored faithfully to the way we had fishing vessels."