Pilgrimage to Holy Island will bear crosses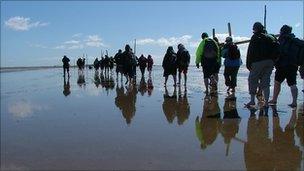 This Easter Northumberland's Holy Island will see an influx of visitors seeking more than relaxation and pretty views.
Every year since 1976 there has been a 100-mile pilgrimage to Lindisfarne to mark Holy Week.
This April about 75 pilgrims will be making their way from seven starting points, including Bellingham and Seahouses.
Some of them will be carrying practically full-sized crosses.
This will be the fifth time for Louise Hall, a student from Newcastle University, who said: "Carrying a cross is important, otherwise it's just a walking holiday.
"I always rather resent it at the beginning of the week, but then it's not supposed to be easy."
Most will take a week to walk the 100 miles, bunking down on village or church hall floors for the night.
Louise said: "Sleeping on hall floors is awful for the first couple of nights, even if you have several sleeping mats, because it's always a hard floor and sometimes it's cold.
"You do always get to sleep, though, because you're shattered.
"Sleeping all together is a good bonding experience although, if anyone snores, they're usually banished to another room."
The symbolic wooden crosses come in different sizes and weights, suitable for the terrain, length of walk and age of the bearer.
Some, at about 5ft long, are nearly as big as an original crucifix.
Louise said: "Jesus told us that, if we want to share his everlasting life, we also have to pick up his cross. It is heavy, but you only carry it for as long as you're able, and then you pass it to someone else.
"You carry it with a partner. It's not so bad if you pick someone who's the same height and goes at the same speed.
"It's also a good act of witness. It makes people notice us and then maybe they'll ask us who we are."
Gradually legs were added from towns and cities within a reasonable walk and now start at Bellingham, Seahouses, Lanark, Melrose, Carlisle, Edinburgh and Iona.
This year about 75 pilgrims will travel along the seven routes, all converging on Holy Island's tidal causeway on the morning of Good Friday, 22 April 2011.
Pilgrims of all ages will have spent a week dedicated to worship, prayer and camaraderie.
Louise, who is leading the Northumbrian leg this year, found her first pilgrimage hard work but said the physical pain was balanced by the spiritual benefits.
She said: "I thought that Holy Week and Easter had never ever meant so much to me, even though I've always been a Christian.
"If I didn't do this, I'm worried that I could forget about Easter and it could just be a bank holiday and a hot cross bun."
Related Internet Links
The BBC is not responsible for the content of external sites.