Newcastle woman joins Bupa Great North Run Hall of Fame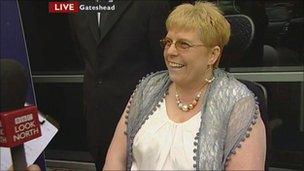 A Newcastle woman has joined the Bupa Great North Run Hall of Fame for her inspirational courage in taking part in the 13.1-mile race in her wheelchair.
Lynne Proctor, from Lemington, ran the Great North Run 10 times before being diagnosed with multiple sclerosis in 2005 which left her in a wheelchair.
Determined to not give up, she took part in last year's run in her wheelchair.
She received the BBC Newcastle Look North Award at an awards ceremony.
The Bupa Great North Run Hall of Fame Charity Dinner was established in 2007 to honour those who have made a special contribution to the run.
Mrs Proctor received her award for her courage and commitment.
Blue Peter presenter Helen Skelton and Lee Lowden from the Tynedale Harriers helped her to the finish line last year by giving her a little push along the way.
Mrs Proctor said: "Sadly in 2005 I was diagnosed with multiple sclerosis and I thought I was never going to be able to do it again, I thought that was it, it was over.
"But with Helen Skelton helping me, I did it last year in a manual wheelchair, it took us two-and-a-half hours but we had a blast, an absolute blast."
She raised £750 for charity Leonard Cheshire Disability and has signed up to take part again this year.
She said: "It's all lined up for this year already, I just need someone to push me.
"It's an absolute blast from start to finish from the minute you cross over the line to the minute you cross that finishing line. It's worth every ache and pain."
Kevin Keegan was also honoured at the awards for his role in the Bupa Great North Run.
He took part in the very first run in 1981 when he was England captain - bravely wearing a special shirt that featured both the black and white stripes of Newcastle United and the red and white stripes of rivals Sunderland.
Two years later he took part again pushing 12-year-old Peter May in his wheelchair to raise money for a muscular dystrophy charity.
Keegan said: "Brendan [Foster] said we'd like to do a fun run and I came up, I don't remember it being a lot of fun, it was a red hot day but some how he talked me into it.
"It probably had a big effect on me coming to Newcastle because when you run in the Great North Run the adrenaline is unbelievable, they just carry you along and everyone's helping everyone, it is so so special."
Related Internet Links
The BBC is not responsible for the content of external sites.