Newcastle Science City chief executive cuts own job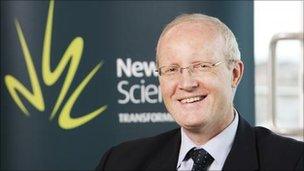 The chief executive of Newcastle Science City has axed his own job, citing government funding cuts for his decision.
Peter Arnold was responsible for turning the city into a centre of scientific excellence.
His remit included fostering scientific talent, enabling new businesses and promoting scientific education.
But he said in a "more challenging funding environment", it was time for his post to go.
He said: "I feel the time is right for me to move on and explore some really interesting new ideas I have for ventures within the science sector."
The Newcastle Science City company was set up in 2007 to support the creation of science-based businesses and jobs in the city and to further scientific research.
It is run by Newcastle University, the city council and the regional development agency (RDA) One North East, although the RDA's funding ends in March 2012.
The vice chancellor of the university, Professor Chris Brink, said the remaining partners were still committed to developing Science City and its new Science Central research building.
NSC's chairman Paul Walker said that, in the light of funding cuts to the project, Mr Arnold had decided the company no longer needed someone like him to head it.
Mr Walker said: "With the reduced funding, and the RDA going, we needed less infrastructure around Science City and Peter said it didn't need a fully qualified CEO such as he is and it needed more of a general manager.
"Peter is a highly qualified scientist and he's done a great job but, under the new funding structure, frankly I'm not sure we can afford that type of individual."
Mr Walker said he was optimistic about future development.
One part of the company, the Innovation Machine, with its remit to support 500 new science-based businesses by 2025, has funding until September.
But Mr Walker said they needed more.
"We are losing money from the RDA and we've got to be agile and entrepreneurs in looking for different ways of raising funding to continue.
"The universities, you know, are absolutely behind Newcastle Science City and Newcastle Science City Company, as are the council.
"But we're going to have to look for some other revenue stream or other funding options to make sure we continue as normal.
"That is the objective - the vision of what we want from Newcastle Science City hasn't changed."
Related Internet Links
The BBC is not responsible for the content of external sites.