Meningitis probe in Sunderland University student death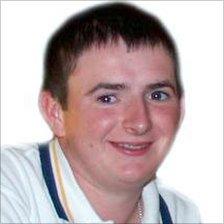 A Sunderland University student has died of suspected meningitis.
Christopher McKee, 21, a sports journalism student from Ballymena, Northern Ireland, was found dead in a flat in Pallion on 26 March.
His friends are being offered antibiotics as a precaution, the university has confirmed.
Lecturers described Mr McKee as a popular, intelligent student who was a big football fan and a "pleasure to work with".
In a statement, Anna and Samuel McKee, Christopher's parents, said: "We are still struggling to find the words to describe how we feel at this time, but we are all absolutely devastated and shocked by the news of our son's death.
"Christopher was a quiet and considerate young man, who never made a fuss and was incredibly close to his family. He had a huge respect for people of all ages and had a wonderful Christian upbringing.
"We have been hugely comforted and overwhelmed by the support from our family and friends in our local community in Ballymena.
"Our home has literally been inundated with thousands of people offering their support following the news, which demonstrates just how popular Christopher was to all those he knew and met."
Neil Farrington, lecturer in BA Sports Journalism at the university, said: "Our thoughts are with his family.
"We are devastated for them and for his friends.
"Chris was very well liked and a pleasure to work with. He had a remarkable maturity for a first-year student.
"He was a big Northern Ireland fan. He was also a Rangers fan and there were a few Celtic supporters in class who enjoyed some good banter with Chris."
A spokeswoman for the university said staff were working closely with the Health Protection Agency to give students advice and support.
She said only people who had had prolonged contact with someone with meningitis were at risk.
A University of Sunderland spokesperson said: "We have been informed that the meningococcal infection may have been involved in Christopher McKee's death on 26 March.
"We are all deeply saddened by Christopher's death and have been offering our support to his family, friends and fellow students.
"He was very popular with his peers and his lecturers. He was an intelligent student who had a bright future ahead of him and it is tragic that his life has been cut short."
Related Internet Links
The BBC is not responsible for the content of external sites.