Blaydon Dairy facing new closure threat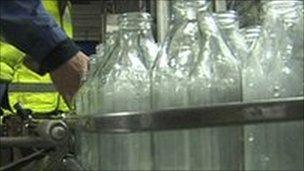 A Tyneside dairy which employs 97 workers is under threat of closure just over a year after it was "saved".
Medina Dairy said it had reviewed the profitability of the Dairy Farmers of Britain's Blaydon depot and wanted to transfer production to Huddersfield.
It said it realised the news would be a "bitter blow" to workers as it only took over the site in January 2010.
A 30-day consultation process has begun. The site originally closed in 2009 with the loss of 300 jobs.
It reopened six months later after being bought by Medina Dairy and some workers were given their jobs back.
A statement from the company said: "Medina currently processes at two facilities in the North of England which both have spare capacity.
"Having reviewed the total processing capacity and the profitability of both sites we have decided to propose the closure of the Blaydon facility and the transfer of all volume into our site in Huddersfield.
"We acknowledge that this will be a bitter blow for our employees in the North East, but at the same time we have to recognise that this will further strengthen the Medina Group moving forward."
Related Internet Links
The BBC is not responsible for the content of external sites.