Neighbour rescues three from Gateshead house fire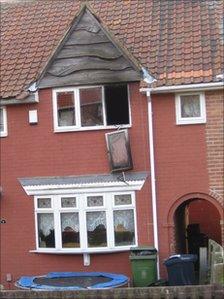 A neighbour helped three people, including a baby, escape from a house fire in Gateshead.
The fire started in a bedroom of the home in Seaburn Gardens, Wrekenton, on Wednesday night.
The neighbour used a window to rescue a 41-year-old woman, 14-year-old girl and a 14-month-old boy. They were treated in hospital for the effects of smoke.
Another three people got out by themselves. A nine-year-old was also taken to hospital.
A dog was rescued from the house and given oxygen.
An eyewitness said the neighbour used a trampoline outside the house to climb on to a ledge under the window.
Related Internet Links
The BBC is not responsible for the content of external sites.