Sir Bobby Robson Foundation reaches £3m mark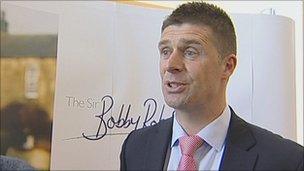 The cancer charity foundation set up by the late Sir Bobby Robson has now raised more than £3m.
The County Durham-born former Newcastle United and England manager died in July 2009 after a battle with the disease.
The Sir Bobby Robson Foundation, set up in 2008, works with scientists at Newcastle University to help develop cancer treatments.
Patron and Sunderland FC chairman Niall Quinn formally announced the new £3.3m total earlier.
He made the milestone announcement at Barclays' contact centre in Sunderland, where staff have chosen to raise funds for the foundation over the coming year.
He said: "It is incredible, when you look back a few years ago when Sir Bobby got his bad news.
"That he could turn that bad news into something that is as lasting and impressive and as important with the work that the foundation does."
The charity focuses on the early detection of cancer and the development of new drugs to help beat the disease.
It has helped establish the Sir Bobby Robson Cancer Trials Research Centre at the Freeman Hospital in Newcastle.
Related Internet Links
The BBC is not responsible for the content of external sites.