BBC Introducing: Gallery Circus from South Tyneside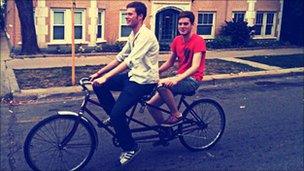 Duo Gallery Circus from South Tyneside have a very close bond.
Twins Graeme and Daniel Ross got a head start to their music career, performing in bands since the early age of five.
Now they have embarked on a journey to make Gallery Circus ones to watch in 2011.
Relocating to Wicker Park in Chicago for a year to write their new material - they are now back in the north-east of England to take on the local music scene.
The band is made up of 21-year-old twins Daniel (lead vocalist, guitar and piano) and Graeme (drums and backing vocals).
Last year they left behind their home in Boldon to embark on a musical journey in Chicago.
Graeme said: "Gallery Circus was born in the summer of 2010, when we located to Wicker Park, Chicago for the year.
"With no instruments, and getting kicked out of our apartment after only two months (too many parties), we were fortunate enough to meet like-minded musicians, who put us up in various music venues across the city and threw in a guitar and drum kit for good measure.
"We began writing a whole set of new material from this point onwards and in January we moved back to Newcastle."
The band are influenced by British song-writing and American Blues.
Graeme said: "Gallery Circus is designed to be a live thing. We're all about spontaneity and raw passion.
"We'll never use drum loops or samples. Live and on record, our songs capture what can only be achieved by two people; even if that means playing guitar and piano simultaneously."
After playing gigs across the United States in 2010, the brothers are back home and are set to release their debut EP in the summer.
Find out more about Gallery Circus on their website.
Related Internet Links
The BBC is not responsible for the content of external sites.