Kevin Nolan cleared over Newcastle speeding case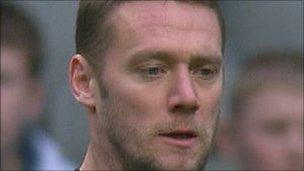 Kevin Nolan has been cleared of failing to identify the driver of one of his cars allegedly caught speeding.
The Newcastle United captain was the registered owner of an Audi S8 which magistrates were told was clocked doing 37mph in a 30mph zone in Newcastle.
He said that other family members were insured to drive the vehicle, and he could not establish who was using it at the time, in July last year.
Magistrates dismissed the case, saying he had exercised reasonable diligence.
Mr Nolan, 28, of Ponteland, Newcastle, told the court in Bedlington that he also owned an Audi Q7, a Range Rover and a Bentley.
His wife was insured to drive them, as were his father and brother, who would often visit from Liverpool.
All could have been potential drivers on the 27 June, as no-one had a favourite car.
"It just depends which has got the most petrol," he said.
"Or if my daughter needs dropping off at school or I take a friend into work, it just depends on that.
"Anyone drives any car at any one time. Whatever we feel like."
He added: "I just tried to recollect who was up.
"The date doesn't stand out for any of us. I spoke to my father, brother and wife."
Mr Nolan denied failing to supply information about the identity of a driver of a vehicle allegedly involved in an offence.
Related Internet Links
The BBC is not responsible for the content of external sites.