Lantern warning after Holy Island dunes fire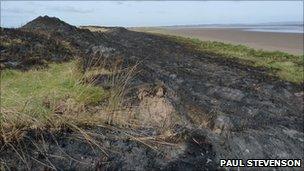 People have been warned about the dangers of releasing Chinese lanterns after dunes were set alight.
The incident, on Holy Island on Wednesday night, involved three separate fires, and took 20 firefighters four hours to extinguish.
It was caused by lanterns which had been released on the shore, then blown back to land by strong winds.
A Northumberland Fire and Rescue Service spokesman urged the public not to use them.
Acting chief fire officer Alex Bennett added: "When these fall back to land the candles can very easily ignite dry grass or undergrowth.
"The subsequent fires can spread very quickly to destroy very large areas of natural undergrowth or crop land.
"As Northumberland is a large rural county we are particularly at risk of fires resulting from the use of Chinese lanterns and we would urge the public not to use these."
Concerns have also been raised by RNLI, which has reported a a large increase in the number of call-outs after the lights from lanterns were mistaken for distress flares.
Related Internet Links
The BBC is not responsible for the content of external sites.