Ex-warship HMS Bristol leaves River Tyne after refit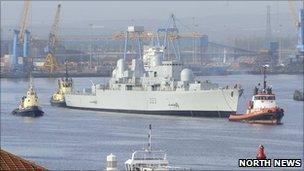 A Tyneside-built former warship has sailed away after returning for a major overhaul.
HMS Bristol was launched at Swan Hunter's Neptune yard in 1969 and served in the Falklands War before becoming a Royal Navy training vessel.
The ship arrived at A&P Tyne, in Hebburn, in November for a revamp and the project involved some of those who helped build the ship.
She left the River Tyne on Sunday to sail back to her Portsmouth base.
The refit of the Type 82 destroyer included replacing decking, a fire detection system, more accommodation, an office inside the funnel and a lecture theatre inside the old missile silo.
Electrical foreman Ed Smith, 62, from Walkerville, and Bill Colquhoun, 59, from North Shields, production manager at A&P Tyne, served out much of their apprenticeships building HMS Bristol.
Mr Smith said: "It was like welcoming back an old friend when she sailed in.
"There's a few more here like me who helped build her and we've enjoyed reminiscing about those times.
"I served out my time as an apprentice on the Bristol, watched her launched, took her out on sea trials and she has always had a special place in my heart."
Mr Colquhoun said: "When the Bristol came in you could tell she was 40 years old but after the refit and a complete repaint she looks beautiful."
Related Internet Links
The BBC is not responsible for the content of external sites.