Old railway coaches return to Northumberland museum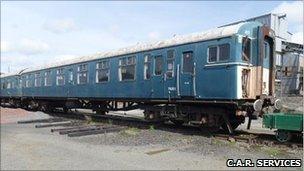 Two Mark 1 railway carriages are being moved hundreds of miles to a museum in Northumberland.
The coaches are being transported from Okehampton in Devon, with the first scheduled to arrive at The Heritage Centre in Bellingham on Wednesday.
Once they have been refurbished, they will be used as an exhibition and learning space and a tea room.
They will be painted the colours of the old Border Counties Railway trains.
Border Counties Railway was a 42-mile single track built between 1855 and 1862.
It ran from Hexham station on the Newcastle and Carlisle Railway, up the North Tyne valley to Bellingham and across the border into Scotland until it was closed in 1958.
The coaches will be painted the livery maroon and cream colours to match the old design and will be kept at the old station yard at the museum.
Once the carriages are in place on the track, work will begin to refurbish and refit them over the next few months.
The Heritage Centre in Bellingham has already laid the track for one of the coaches thanks to work by Aln Valley Railway Trust in March.
Chairman Terry Bragg, said: "This is a hugely exciting development for the Heritage Centre.
"The railway coaches will give us badly-needed space to work with children and young people, and enable us to hold talks and lectures and extra exhibitions in a comfortable environment."
Funding for the work was provided by the Heritage Lottery Fund and Northumberland Uplands LEADER Programme.
Related Internet Links
The BBC is not responsible for the content of external sites.