Northumberland man's daily charity trek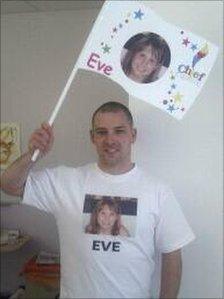 Peter Miller's Valentine's Day was brought to a shocking halt when his stepdaughter Eve collapsed.
He was told she had a 50% chance of survival because of a bleed on the brain.
Eight weeks later Eve is making a recovery and Mr Miller wants to give something back to the hospital that has helped her pull through.
He is walking from Bedlington to a hospital in Newcastle every day for a week to raise awareness of its charity.
In February Mr Miller's eight-year-old step-daughter Eve collapsed and was rushed to Newcastle's Royal Victoria Infirmary (RVI).
He was told that she was suffering from a bleed on the brain and that it could be life threatening.
Mr Miller, 31, explained: "She spent two weeks in intensive care and she's now in a specialist neuro ward in the RVI."
"We wanted to give something back, so I've taken it upon myself to raise some money."
Mr Miller is now raising money for Children's Head Injury Equipment Fund (Chief) which is part of the Newcastle Health Care Charity.
He is walking just more than the length of a half-marathon (around 24 km) from his home in Bedlington, Northumberland to Newcastle's RVI.
He is wearing a T-shirt and holding a flag which both bare a picture of Eve and the charity's logo to raise awareness.
Mr Miller said: "The support I've been receiving both from family friends and even just passers-by beeping their horns and stopping and giving me their change has been absolutely fantastic.
"Although I'm doing this, the people who have helped the most have sponsored me and so far we're doing fantastic."
A single donation of £350 has helped Mr Miller smash his target of £500 and his current total is almost treble his expectation.
Related Internet Links
The BBC is not responsible for the content of external sites.