Gateshead pupils given antibiotics in meningitis scare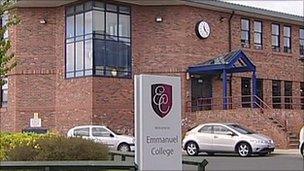 Pupils at a Gateshead school have been offered antibiotics after two teenagers were taken to hospital with suspected meningitis.
The boys, from Year 10 at Emmanuel College, were taken ill over the weekend.
Letters have been sent to parents of all 1,241 students at the school giving them advice and information.
Health experts said the meningococcal bacteria, which causes meningitis, does not spread easily.
Dr Tricia Cresswell, of the Health Protection Agency, said: "Only people who have had prolonged, close contact with the students are at a slightly increased risk of becoming unwell.
"The germ which causes the illness lives naturally in the back of the nose and throat and many people carry it without ever becoming unwell.
"However, it can cause meningitis or blood poisoning in some people.
"Because there is a possibility that the two cases may be linked, and strictly as a precautionary measure, all students in Year 10 have been offered antibiotics."
Related Internet Links
The BBC is not responsible for the content of external sites.