Double boost for Seaham lifeboat restoration project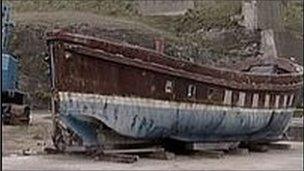 The team behind a project to restore a lifeboat involved in a tragedy off the County Durham coast has been given two funding boosts.
Following a rescue in 1962, the George Elmy overturned off Seaham and nine people died with only one survivor.
The East Durham Heritage Group is working to restore the lifeboat.
Durham County Council chairman Councillor Mac Williams has given £10,000 and a further £50,000 has come from the Heritage Lottery Fund.
When he was appointed chairman, Mr Williams named the fund as one of his chosen charities.
He said: "The aim is for the George Elmy to become seaworthy again and become a showpiece for Seaham.
"It would be brilliant to eventually see her escorted under her own power by the RNLI back home to Seaham.
"This would be especially poignant as on her last call she never returned - and we want her to come home."
In 2009, the lifeboat was spotted for sale and it was returned to Seaham.
The plan is that once the lifeboat is restored it will go on display in the town.
Related Internet Links
The BBC is not responsible for the content of external sites.