County Durham hunt for best dry stone walls and hedges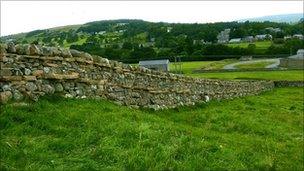 They are not just something to keep the cows and sheep in their fields and away from the temptations of nearby crops.
In the north-east of England hedges and dry stone walls are something to be valued, praised and rewarded.
To prove it, Durham County Council is running a competition to find the best laid boundary.
All those in the County Durham Biodiversity area are eligible to be nominated for this year's Field Boundary Awards.
This means hedges and dry stone walls in Durham, Darlington, Gateshead, South Tyneside and Sunderland could be visited by judges with clipboards and an eye for more than the pretty view.
Andrew Adams, the president of the National Hedgelaying Society, said the judges would be looking for boundaries that are straight, gap-free and sturdy enough to withstand animal attempts to reach green shoots on the other side.
Hedges need to be cut correctly to allow growth in the right direction and walls will be judged on the appropriate use of available stone.
Burt Hunter Knitsley, who won last year's hedgelaying trophy, said he believes hedges are important for conservation.
"Farmers' fields, they're basically deserts," he added.
"You might think that it's all nice and green but it's a monoculture of one or two types of grass.
"Most of the wildlife will be concentrated into the field margins, which is why the current stewardship regime pays for leaving...strips around the edges of fields."
Kevin Marshall's wall at Stainton Pastures in Middleton-in-Teesdale won him a prize in the first Field Boundary Awards last year.
He said: "You've got to... try and put the bigger stones in the bottom of the wall.
"Then make sure the middle's full and each stone that you put on is pinned from the back, a little chip of stone goes in behind the one you've put on and that helps keep it solid."
Entries to the 2011 Field Boundary Awards should be made through Durham County Council.
Related Internet Links
The BBC is not responsible for the content of external sites.