Sunderland Nissan staff get heights training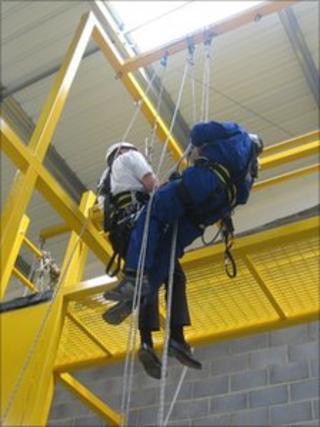 Hundreds of Nissan staff have received training in working while suspended from the ceiling as part of a new scheme for maintenance workers.
Currently about 20% of maintenance at the company's Sunderland plant involves working at a height.
The techniques learned by the workers reduce the risk of falls while working at heights, Nissan said.
However a spokesman explained that no staff ever worked while suspended from the ceiling when back at the plant.
He said that all work at height at the factory was carried out by workers on scaffolding.
The safety training was carried out by Advanced Industrial Solutions, in North Shields.
Justin Huskisson, from Nissan, said: "A fifth of all our maintenance and repair jobs involve working at height issues, as much of our plant is suspended above the ground.
"Currently there is a small team trained to handle these jobs but we wanted to increase the number of staff able to work at height."
The maintenance team is responsible for the running of plant across all areas of the business including the body shop, press shop, trim and chassis and paint shop.
Correction: This is a revised version of the story. The original reported that Nissan staff were working while suspended from the ceiling at the company's Sunderland factory. Nissan has assured the BBC that its workers were only suspended from the ceiling while training at Advanced Industrial Solutions. The BBC reported the original version of the story in good faith, extensively quoting a Nissan safety engineer. Nissan claims this employee mistakenly approved parts of a statement attributed to him in a press release on behalf of Advanced Industrial Solutions.