Durham County Council agrees winter gritting plans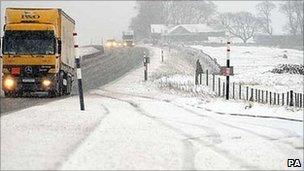 Plans to improve road clearing and gritting during severe winter weather in County Durham have been agreed by the council.
Measures include concentrating resources on a new set of priority "snow routes" and adding key bus routes to this network.
There will also be an increase in the amount of salt bought and stored.
During the cold snap in January 2010 there was concern that the council was running out of grit supplies.
The new measures were introduced in response to feedback from councillors, residents and the Environment and Sustainable Communities Scrutiny Committee.
Councillor Dan Myers, who chairs the committee, said: "It is vital that the council is properly prepared for keeping key roads and footpaths clear and safe during severe winter weather.
"Last year the overview and scrutiny committee made a number of recommendations for improving performance in this area and I am very pleased to see that they have been taken into account."
Related Internet Links
The BBC is not responsible for the content of external sites.