Knitted Flying Scotsman on track to win competition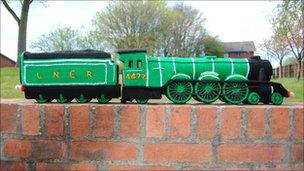 A woman from Newcastle has knitted a scaled replica of the steam engine, Flying Scotsman.
Clare Scope-Farrell, of Wallsend, not only knitted the train but also had to create the knitting pattern from scratch.
The pattern is being entered into a competition which celebrates the return of the original Flying Scotsman to the National Railway Museum.
The knitted train will go on show at the museum in York in May.
Miss Scope-Farrell has been designing knitting patterns professionally for about four years but this was something she had never done before.
She said: "I was completely flummoxed by the idea, where do you start with such a magnificent sculpture?
"My brother-in-law got some beautiful detailed pictures of the engine as well as some diagrams which gave me some of the dimentions of the real engine.
"I had to take a step back and break it down into individual pieces."
Miss Scope-Farrell, 35, started with the wheels, built the train section by section and two months later completed the three feet (91 cm) long train.
She has even knitted the engine's firebox, complete with a fire, and chose to couple the tender and locomotive together using popper fasteners.
If she wins the competition, the prize is a ride behind the real train and a Hornby Flying Scotsman train set.
Miss Scope-Farrell said: "This competition was an irresistible opportunity to put my pattern writing skills to the test.
"The idea of riding on the Flying Scotsman would be a fantastic prize, I would be absolutely thrilled if that were to occur."
And the train set - she will give that to her brother-in-law.
Related Internet Links
The BBC is not responsible for the content of external sites.