Newcastle University to charge £9,000 tuition fees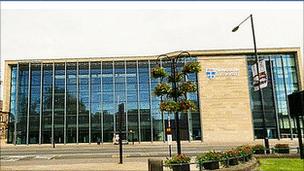 Newcastle University has announced plans to charge the maximum £9,000 tuition fees for new UK and EU undergraduates from 2012.
The university has promised that up to a third of students will be eligible for reduced fees and also set aside £29m for bursaries over five years.
Vice-Chancellor, Prof Chris Brink, said he was confident the higher fees would not "put off" potential students.
The National Union of Students said the move would hit poorer students.
A number of other universities have already announced £9,000 fees.
The university currently has 14,700 undergraduates and 5,700 postgraduates, and employs about 5,000 people.
In 2010 it generated almost £93m from academic fees and support grants.
Prof Brink added: "Newcastle University is a modern civic university with a proud tradition, committed to world-class academic excellence.
"We are consistently ranked in the top 20 in the UK for research power and student experience, and have a strong graduate employability record.
"We want to continue to attract the brightest and best students from all backgrounds to study here.
"We are planning to build on our existing wide range of activities to promote fair access, which will include a generous package of support to ensure that students will not be put off applying to us for financial reasons."
Liam Burns, who is the newly-elected president of the National Union of Students, said the university's decision was "bad news."
He said: "Local students from poorer backgrounds will be put off by this. It doesn't matter whether you pay it back up front.
"At 17 I would never have wanted to take on that sort of debt and so it will put off the poorest."
University fees declared so far are listed in the table below. Please send further updates to educationnews@bbc.co.uk
Related Internet Links
The BBC is not responsible for the content of external sites.