BBC Introducing: Let's Buy Happiness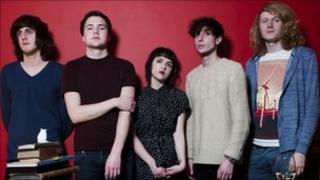 Let's Buy Happiness have only been together around two years but they have already played the John Peel stage at Glastonbury and a BBC Introducing Session at Maida Vale.
After a whirlwind start this Newcastle band are now set to play Radio 1's Big Weekend in May.
They will be following this with a gig for Radio 1's Huw Stephens Presents, playing some UK festivals and putting in some time in the studio.
Singer, Sarah Hall, said playing Maida Vale was an "honour."
Sharing common ground in their sound with the likes of Death Cab for Cutie, Animal Collective and Sigur Ross, the five-piece band is made up of Sarah Hall (vocals), James Hall (guitar), James King (drums), Graeme Martin (guitar) and Mark Brown (bass).
Mark said: "[The band] is so important to us because it is the main focus in life for everyone involved. It gives us a way of clarity and expressing ourselves.
"We love doing what we do, we all want to make something out of this and keep doing it for as long as possible. Our music and work is something we love."
John Peel
The band were lucky enough to play a BBC Introducing Session at Maida Vale for Tom Robinson.
Lead singer Sarah said: "It is such a lovely place with such a history of amazing acts having recorded there, being picked to play for the sessions was a real honour.
"Tom has been such a help to us by getting us out there on BBC 6 Music and this is where we started believing that the band could really go somewhere."
Setting the bar high after already playing Glastonbury their career looks promising.
Guitarist Graeme said: "Glastonbury was obviously amazing. It is such a beautiful festival and a amazing experience and considering that this was the first Glastonbury for all of us, we were all a little blown away by the incredible atmosphere.
"Just to be associated with the John Peel stage has helped us so much because of what he stood for - bringing new talent through. First of many shows there we hope!"
For more information about Let's Buy Happiness' upcoming gigs, visit their website here.