Ex-soldier joins post-traumatic stress disorder charity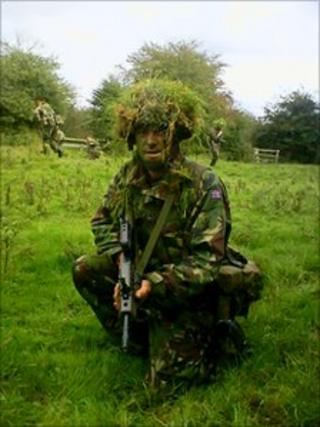 An ex-serviceman from Gateshead is helping other soldiers cope with post-traumatic stress disorder (PTSD) thanks to a local charity.
John Taylor served in the British army for 15 years and was diagnosed with PTSD when he left in 2009.
He sought help from charity Veterans at Ease, which helped him to deal with the psychological scars he was left with.
He has now become the first person to join the charity to help other soldiers live and cope with the condition.
Mr Taylor joined the Army when he was 17 years old and, only two months after training, he was deployed to Bosnia.
After serving in the Army for 15 years, he was diagnosed with post-traumatic stress disorder after leaving his last tour in Afghanistan in 2009.
'Inside your head'
He said: "It seems to be within you so you put up barriers within your life and you just think you can cope with it inside your own head, but actually when you do own up that you have a problem then everything does come out and it's a lot easier.
"I think when you've got a physical injury people can actually see it, so if you've got a broken leg or wrist, for instance, then people can actually see that there is something wrong with you.
"During my time with post-traumatic stress and what I was going through before I was diagnosed, I was hoping that I'd have that kind of injury so people would see it because it's all inside your head so you're just trying to get through day to day and keeping it all bottled up inside."
Veterans at Ease was set up by Garreth Murrell from Durham who was in the Army for 10 years.
After suffering from post-traumatic stress disorder himself, he wanted to address the mental and emotional well-being of other former soldiers and their families.
He said: "It's the traumatic incidents that really have an effect on you later on in life.
"Personally for me, my PTSD I didn't even recognise until after I'd dealt with it because it came back such a long time after I'd served and left the forces.
"I was very, very close to signing myself into Durham Hospital and getting myself sectioned... I couldn't keep a sentence and I'd picked up a stammer.
"Looking back on it, it slowly developed. Some of the things and experiences I got out there led me to have sleeplessness, nightmares, waking up sweating, that drifted off for me over a number of seven or eight years.
"There is no need to suffer any longer, Veterans at Ease is here to help, we do help, we can help."