Policewoman wins Northumbria force's top job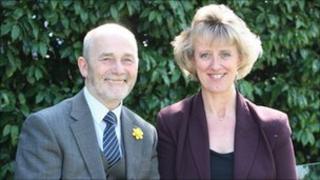 The policewoman who led Northumbria Police during the Raoul Moat shootings case has been appointed its Chief Constable.
Sue Sim, who was the force's temporary Chief Constable, was appointed by Northumbria Police Authority.
She is the first female head of Northumbria Police.
Ms Sim became the public face of the police hunt for gunman Moat in July last year when she spoke at a series of press conferences.
'Widely respected'
Northumbria Police Authority chairman Councillor Mick Henry said: "We know Sue Sim is a highly capable, widely respected and experienced police officer and her obvious skills and expertise will enable us to face the challenges ahead, whilst still fighting crime and disorder and anti-social behaviour.
"The Police Authority was particularly impressed with her commitment to protecting front line policing across Northumbria and delivering police services local people want."
Ms Sim started her career with the police on Merseyside and after 19 years moved to the Northumbria force as Assistant Chief Constable.
She was appointed Deputy Chief Constable in July 2008 and became temporary Chief Constable in April 2010 when Mike Craik retired.
She said: "I am very proud and honoured to have been chosen.
"Northumbria Police is one of the best performing forces in the country and I am determined that we will continue to reduce crime and protect police services that local communities across Northumbria want, despite the tough financial cuts."