Kate Middleton's fascinator helps Whitley Bay ex-pat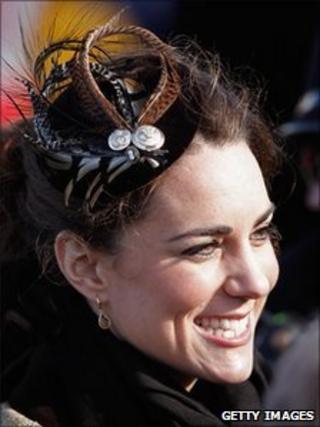 Before Kate Middleton hit the headlines, Abigail Beveridge was a North Tyneside milliner living in Canada with a business that was "ticking over".
She makes fascinators - a cross between a small hat and a glorified hair adornment.
But, she says, ever since Kate Middleton was seen wearing one, people have been "going absolutely mad for them" - even though the future queen's fascinator was not one of hers.
For 18 months Ms Beveridge had been selling mostly to mothers of the bride and bridesmaids.
Now, she said: "Everybody wants to wear one. They just have to have one.
"As soon as they speak to me on the phone they're like, 'Oh you're from England. Oh well, it must be authentic then'."
Laughing, she added: "So I'm making a little goldmine over here out of fascinators that a lot of people hadn't heard of two years ago."
'Going crazy'
Ms Beveridge left Whitley Bay for Toronto in 2007.
Her husband - a former ice hockey player for the Newcastle Vipers - is Canadian.
In Canada she found a nation of people extremely keen on Britain and the Royal Family, partly thanks to a thriving community of ex-pats.
She said: "Everybody's going crazy for William and Kate over here and I've been making a few [fascinators] for ladies who are travelling over to London just to stand in the crowds."
Ms Beveridge said even though Toronto is five hours behind the UK people would be celebrating the royal wedding as it happened.
She said: "The coverage starts over here at three in the morning so I know a lot of girls are taking the day off work just to watch it.
"And there's one of the big hotels, it's a traditional, old, English-style hotel in downtown Toronto, they open to do full English breakfast at 3 o'clock in the morning!"
Ms Beveridge has her own stressful Royal Wedding party to organise.
As a mother of a five-year-old and a two-year-old she has 10 under-fives coming for a "princess tea".
Decorated with union jacks and bunting sent over from home, of course.