Police taser man in North Tyneside supermarket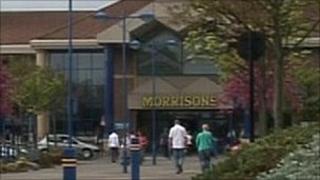 Police have tasered a man during what was described as an "unusual incident" at a supermarket on North Tyneside.
Trained officers were called to Morrisons in North Shields on Saturday.
The 31-year-old, who was carrying two knives, had started using threatening and abusive behaviour towards customers and staff at the store.
A Northumbria Police spokesman said that because of the imminent dangers he posed to himself and others the decision was made to discharge a taser.
He was then arrested on suspicion of affray.