Nissan's Sunderland plant closed over parts shortage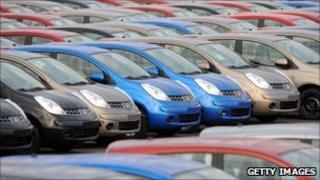 Production at carmaker Nissan's Sunderland plant has come to a halt this week because of parts shortages caused by the Japan earthquake.
The plant shut on Thursday for the Easter break and is followed this week by a three-day stoppage and another bank holiday weekend.
Production will then start again on 3 May.
Nissan is one of a number of car companies which has been affected by the disaster in Japan in March.
When it announced the closure earlier this month, it said it would try to minimise the impact on production and its 5,000 staff, by substituting non-production days that had already been planned for later in the year.
A Nissan spokesman said the stoppage would be used to build up its supply of parts again.
Knock-on effect
The stoppage has also affected a number of other companies which supply parts for Nissan.
It includes Washington-based Gestamp UK, which relies on it for 88% of its business, and is halting production for the same period.
Gestamp business development and commercial manager Mark Potts said: "Primarily if Nissan aren't making cars, then we aren't making parts and we are not making a profit.
"So the best decision is to take the same time off as them.
"It's a week-by-week basis because you never know what is going to happen over in Japan. We will just play it by ear and react to the customers' demands."