Blind plumber from Hexham resorts to self-employment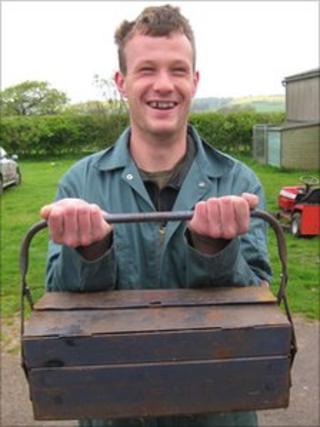 Robert Ainsley-Raffel is a newly qualified plumber from Hexham in Northumberland who cannot find a job.
However, he believes his problem is not the current economic climate but the fact that he is blind.
He said: "It's proven quite difficult to try and break the image that a lot of people have of blind people, that we tap along with white sticks and walk into doors a lot."
Born blind, the 25-year-old found it difficult persuading colleges to accept him on their courses, with many raising health and safety concerns.
Eventually Doncaster College not only took him on but helped him adapt his own equipment and taught him how to feel for what he could not see.
He completed the next level at Carlisle College and is now a qualified plumber capable, he says, of managing 85% of standard plumbing jobs.
Even soldering is possible. He can use a pair of flameless, electric soldering tongs, although he says they are slow.
His alternative is something he concocted with a support worker: "A guide which sits on the end of the torch and holds the torch flame the correct distance away from the pipe, which allows me to heat the pipe."
If the need for specialist equipment - or the 15% of jobs which need sight - worries a prospective employer Mr Ainsley-Raffel says they need not be deterred.
Funding from the government's Access for Work scheme would pay for both kit and a plumber's mate.
He points out that, in effect, they would be getting two employees for the price of one.
But, if no-one can be persuaded, Mr Ainsley-Raffel intends to start his own business and has even bought and insured a company van.
He just needs an employee of his own to drive it.