BBC Introducing: Bernaccia from Gateshead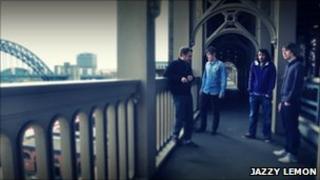 Four-piece band Bernaccia have come a long way since jamming in each other's living rooms when they were teenagers.
Influenced by The Stone Roses, The Doors and Johnny Cash, the band have been friends since school.
Since then, they have played to crowds at The Sage Gateshead and the O2 Academy in Newcastle and have even raised the roof at a house party in Manchester.
They are now returning to the studio to record new songs.
The band is made up of Jonny Noble (lead vocals and guitar), Chris Cox (drums), Stew Falkous (lead guitar) and Kieran Healy (bass and vocals).
Making their own blues, folk and rock songs, their long friendship seems to have helped their ideas gel together to tell meaningful stories in their lyrics.
Lead vocalist Jonny said: "We have developed our sound over a few years now so we feel pretty comfortable in what we write and where inspiration comes from, which is normally a thought or a scribbled lyric that evolves into a story or a riff that becomes the driving force of a song."
Variety in our ears
Jonny added: "Music has always been important to us and a reason why we came together as such good mates, listening to bands, going to gigs, checking out the artwork on the covers, reading the lyrics in the sleeve notes building your own opinion and ideas about what you like and what you hate, I love it all.
"When you sit down and write a song or some lyrics you can really construct something that has a mood or feel to it.
"It lets you be creative and expressive and when you're on stage and the lights are on your face you just go somewhere else, I don't know how else to describe it.
"The words and music you are playing are all that matters and when the crowd is with you it makes you feel like the music you're playing is worth their time."
Regulars at the O2 Academy in Newcastle, it is their most unusual gig to date that holds the most memories for the band.
Guitarist Stew said: "The highlight [of our career] is probably when we played a gig at a house party in Manchester.
"The whole house was packed and when we played our last tune the place lifted off and we nearly broke the floor, you could actually feel it bouncing up and down.
"The lad downstairs who was performing a DJ set said he thought it was going to cave in, so a good gig all round."
To find out more about Bernaccia, visit their MySpace page.