BBC Introducing: Craig Wosahlo from Northumberland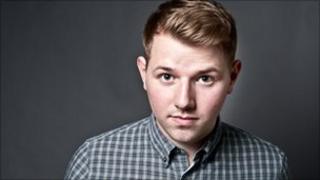 Craig Wosahlo from Cramlington, Northumberland, has been singing and playing music since he can remember.
Focusing his life on his music, he describes his career choice as "the one thing that I'm actually good at."
Sharing similarities in his sound with Bright Eyes and City Colour, his upbeat songs have a quirky twist.
He now has his sights set on Sydney, Australia, to release his new EP and hopefully gain some Aussie fans along the way.
Craig, 22, said: "I try to make people smile when I'm up on stage, my music is a little quirky and individual.
"I write about my love for comic books as well as long distance relationships and just try and make my music relate to other people's lives.
"I have been playing music since I was seven-years-old and now I think it's the one thing that I'm actually good at.
"I have two EP's now, and I am writing another one as we speak, I am on a roll, I just know how to make music and that's about it."
From London to Sydney
Craig is heading to London later in the year for his first gig in the capital to promote his new EP.
Craig, said: "I think that this gig coming up in London will be the best gig I've ever played, I am already nervous and I have never played down south before.
"I am playing for Young and Lost Club Records, which is another honour really, it is a very exciting and nerve wracking week."
After his debut London gig, Craig is then packing his bags and heading across the world to Australia to hopefully expand his fan base.
Craig, added: "I have a new EP coming out in July time, I think and hope, and I have some cool supports coming up in June.
"I am looking to go to Sydney to release the EP over there, so that would be unbelievable if all of that goes to plan."
To find out more about Craig Wosahlo, visit his website here.