North East exhibitions included in 2011 Venice Biennale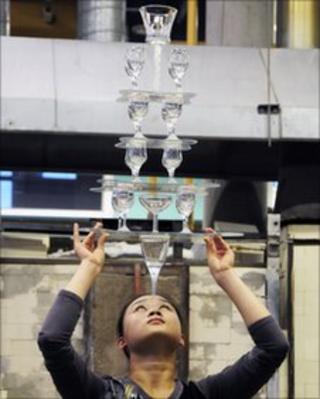 Four arts organisations will be representing the north-east of England at the 2011 Venice Biennale.
Sunderland's National Glass Centre (NGC), Locus+, Newcastle's Laing Art Gallery and Middlesbrough's MIMA have selected local artists' exhibitions.
Their exhibitions will be sent to Italy and shown across different venues across Venice from Thursday 2 June.
The exhibition attracts more than 375,000 people and showcases artists' work inspired by their local area.
Paul Noble, originally from Dilston, Northumberland, has had his exhibitions in New York and Rotterdam.
He was chosen by the Laing Art Gallery to showcase his large-scale wool tapestry at the international festival.
Cerith Wyn Evans has been commissioned by Locus+ to create Permit yourself… (2011) a glass panel mirror engraved with text from an essay by Stephan Pfohl.
NGC selected Rose English's exhibition Storyboard which explores the parallels and dynamism of glassmaking and Chinese acrobatics.
Neil Brownsword was selected by MIMA to show Transition, a ceramic installation of five low plinths with ceramic objects that reflects upon the decline of British ceramic manufacturing in the artist's home town of Stoke-on-Trent.
The 2011 Venice Biennale will run from 2 June to 26 November but is closed through August.