BBC Introducing: The Lake Poets from Sunderland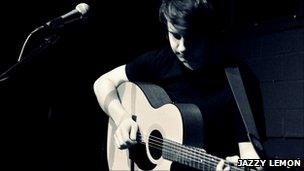 The Lake Poets is an unusual band - consisting of only one permanent member but with a revolving door for members of other bands to pass through.
The acoustic, indie folk band have been said to resemble the sound of Simon & Garfunkel, Villagers and Ron Sexsmith.
Already completing a UK tour, they are now playing Evolution Emerging and travelling to the USA in June touring Boston, Minneapolis and New York.
Described by main member Martin Longstaff as "a collaborative scene in Sunderland", the future of the newly formed The Lake Poets looks promising.
The line-up of the band is forever changing - at present, its members are Martin Longstaff (songwriter, vocals and acoustic guitar), David Ellwood (bass guitar and banjo), Steven Calder (harmonica and mandolin) and Daniel Laidler (drums and piano).
Martin said: "The Lake Poets is very important to me as it allows me to present my songs and ideas to those that will listen and by doing so, create a connection.
"Music is the best thing in the world and it is a privilege to be able to play in front of a receptive and silent audience and get applause.
"I am also lucky enough to share the stage with my friends and other acts I respect and admire. I love it."
The name of the band comes from their love of literature, nature and the English language - stemming from a description of a group of 19th Century English romantic poets William Wordsworth, Samuel Taylor Coleridge and Robert Southey.
The band took off when Martin became focused on his music career and making his dreams come true after the loss of his grandfather.
He said: "My Grandfather died in April 2010, I loved him very much and looked up to him a lot.
"The loss of him spurred me on to make music and do what I love best, as I realised life is too short not to act on your dreams."
The Lake Poets will play Evolution Emerging, Kendal Calling and Split Festival, before heading to the USA in the hopes of gaining some American fans.
To find out more about The Lake Poets, visit their MySpace page.
Related Internet Links
The BBC is not responsible for the content of external sites.