Tyneside's Port of Tyne report record profit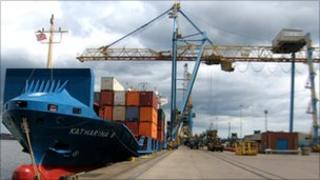 Workers at one of the UK's major deep sea ports will benefit after profits almost doubled in 2010.
Turnover at the Port of Tyne reached £45.5m and bosses say its 450 workers will now receive a share.
A port spokesperson said bulk cargoes and container traffic had played a large part in the improved figures.
The port was used to bring the first of Nissan's electric cars, the Leaf, into the north-east of England from Japan in February.
Each of the port's workers will be paid an extra 2% of their salary as a bonus for this year.
Its level of earnings were up by 45% on 2009.
Port of Tyne's Andrew Moffat said: "Increased activity levels has led to our doubling in profits.
"I think it's only right in this day and age that we are able to share in that performance."
A study by independent consultancy firm ARUP in 2010, said the port was worth £421m to the economy of the north-east of England.