BBC Introducing: Motion Tourist from Newcastle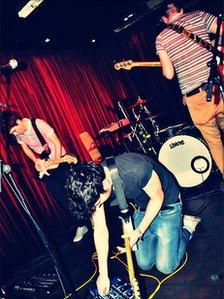 Motion Tourist from Newcastle have been together for four years - starting from just a group of friends messing about playing music, they realised they shared a passion.
This year they are releasing their second EP, playing Evolution Emerging and supporting some of their favourite bands.
Influenced by bands such as Radiohead, Death Cab for Cutie and Foals, the band describe themselves as a "blend of North American indie and alternative British music."
Made up of four students, Michael Bennett (vocals, guitar), Sean Matthews (guitar, synth), Ste Turnbull (bass) and Jonny Buck (drums).
Guitarist Sean, said: "Out of boredom we stared messing about with guitars playing covers, then Michael wrote a few songs and we were on our way.
"It's the most interesting and important part of our lives at the moment. It's an outlet for the our creativity and gives us a chance to express ourselves, and hopefully a means to not getting a proper job."
The band were originally called The Great Escape, but after a shared hatred for the name they took the plunge and changed their name to Motion Tourist.
This year the band have been asked to support some of their favourite artists.
Vocalist Michael, said: "We've been asked to support some of our favourite bands such as Frankie & The Heartstrings, Starsailor and Little Comets.
"It seems in the last six months since we changed our name and developed our sound, we've had a lot more interest locally and nationally."
They are also playing Evolution Emerging and Ignition Festival in August.
Michael added: "It's great to meet and play with bands you've watched for years, and it's great to be recognised for your music by being offered higher profile gigs such as these.
"It's exciting times for us and hopefully this will push us on throughout the summer along with our EP release and gigs we've been offered around the country."
To find out more about Motion Tourist, visit their MySpace page.
Related Internet Links
The BBC is not responsible for the content of external sites.