Christian Surfers group to launch in the North East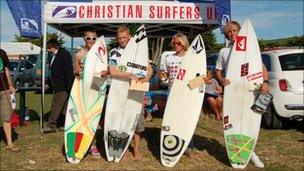 They are all committed Christians but, when they meet, it's not in a church or a chapel, it's on the beach.
The organisation Christian Surfers is setting up a new group in the north-east of England.
It's being set up by Rachel Farish, who has recently moved back to the region where she grew up.
She wants to combine her love of God with her passion for surfing.
Rachel said: "There are a lot of Christian Surfer groups down in the South West and in Wales, but none up here and, as we've got great beaches and great surf, it seemed the obvious thing to do."
Christian Surfers was set up in the late 1970s by a group of Australian teenage surfers and other nations followed with the first UK group starting in 1990.
There are now groups in countries as diverse as Tahiti, Portugal, Japan, Peru and Venezuela.
So what do Christian Surfers do? When the surf is up, they meet on the beach and pray for each other and for other surfers.
They ask for good waves and thank God for the sea and the joy surfing brings them.
Sometimes they'll read a passage from the Bible and reflect upon it while they're surfing.
Rachel said: "The sea is so vast, it really reminds me how amazing God is, how big he is and how beautiful his creation is.
"When you get to sit out back waiting for the big one, there are often a few moments to meditate on God and what he's given us all."
Christian Surfers don't just surf though.
They hold other events, like prayer meetings, barbecues on the beach, camping trips and they try to act as a bridge between local churches and the beach.
Rachel's group began with a few fellow surfers from her church but she says word is spreading fast and they're getting new members all the time.
The group will be officially launched in the autumn but anyone interested can get in touch with Rachel on CSnortheastUK@googlemail.com
Related Internet Links
The BBC is not responsible for the content of external sites.