Brenda the chinchilla born at Saltwell Park, Gateshead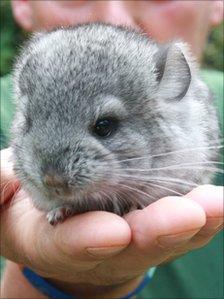 A chinchilla at Saltwell Park in Gateshead has surprised its owners by unexpectedly giving birth.
Wayne Barratt, from Gateshead Council, grew concerned about the chinchilla after discovering her kicking her hind legs out and making a strange noise.
He then realised that she was in labour and stayed for the delivery to make sure the new family was safe.
The new arrival has been named Brenda and weighed 75 grams (2.6 ounces) when she was born.
Mr Barratt has since earned the nickname "midwife" amongst his team.
They affectionately refer to Brenda as "the bairn" and have even bought toys for the pen where the chinchillas live.
Related Internet Links
The BBC is not responsible for the content of external sites.