Sparks from machinery triggered Byker scrapyard blaze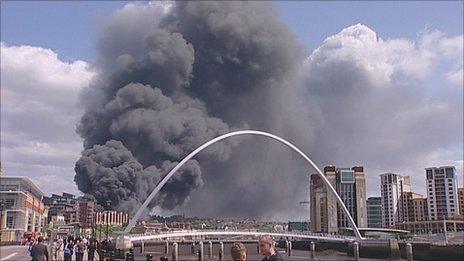 Sparks from machinery triggered a scrapyard blaze on Tyneside, smoke from which could be seen 30 miles away, fire investigators have concluded.
At its height, 70 firefighters tackled the blaze at the yard in Albion Row, Byker, on 19 May.
No-one was seriously hurt, but people in nearby properties were told to keep doors and windows closed.
Tyne and Wear Fire Service said the accidental blaze started when sparks landed on flammable materials.
Firefighters used water from the River Tyne to help fight the blaze and at its peak were using 8,000 litres a minute.
Area manager Alan Robson said: "This was a very intense and difficult incident and the fire developed very quickly, making it difficult to deal with.
"Our firefighters did extremely well to bring it under control as quickly as they did.
"Fire investigation officers discovered the fire was started as a result of sparks being generated when a mechanical grabber was used to pick up and move combustible materials covered in flammable liquids."
Related Internet Links
The BBC is not responsible for the content of external sites.