Work starts on new primary schools in County Durham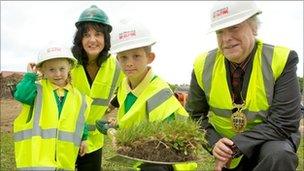 Work has begun on two multi-million pound primary schools in County Durham.
The schools, due to open in April 2012, are hoping to gain an award for sustainability.
The new sites, costing £6.4m in Esh Winning and £7.2m in Brandon have been described by Durham County Council as a "commitment to invest in our children and young people".
It said the builds will be "as green as possible", with specially-treated walls and energy-saving lighting.
Claire Vasey, cabinet member for children and young people's services, said: "Durham County Council has invested millions in these new buildings.
"These schools will undoubtedly receive national acclaim and place Durham County Council and the communities of Esh Winning and Brandon firmly in the public eye."