Lottery awards: Six Tyne and Wear groups in semi-finals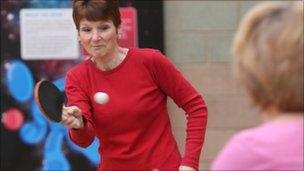 Six projects in Northumberland, County Durham and Newcastle have reached the National Lottery Awards semi-finals.
The awards aim to find the best lottery-funded charities and groups within the seven funding categories.
The 70 semi-finalists include Active Newcastle, New Opportunities in Sport and Exercise for Looked-after Children, Bowes Museum, Humshaugh Village Shop, Revival of Ancient Crafts and Save our Squirrels.
Voting ends at noon on Monday, 20 June.
Active Newcastle, which tries to encourage adults to take part in more sport or physical activity, is up against nine others in the best sport project category.
They're particularly keen to help those from disadvantaged areas who might not have easy access to sport.
The project offers children in care the chance to take part in a variety of activities not always available to them, from football to stunt cycling and gorge walking.
Competing against eight others in the best heritage project category are Bowes Museum and Revival of Ancient Crafts, both in County Durham.
Bowes Museum's Access to Collections project used its lottery grant to improve public access and provide new visitor facilities at what the museum's director felt had become a "shabby" and "outdated" building.
The 39 buckets catching rain from the leaking roof are also no longer needed.
They've been learning ancient crafts and skills such as basket weaving, stone carving and blacksmithing along with children from other local schools, which has helped raise awareness of their disabilities.
Lottery funding helped the village of Humshaugh in Northumberland save its village shop which is now in the last 10 in the voluntary/charity section of the awards.
Faced with its closure the local community rallied to buy it and the enterprise now makes a profit which can be spent on other projects in the village.
Save our Squirrels, working across Northumberland and the wider region, is competing in the environment project section.
Its aim is to protect red squirrels, control the grey squirrel population and help inform the public about the issues.
The semi-finalists have been shortlisted based on the difference they have made to their local communities.
The winners of each of the seven categories will be announced in a special BBC One programme later in the year.
Related Internet Links
The BBC is not responsible for the content of external sites.