River Tyne will be made deeper after dredging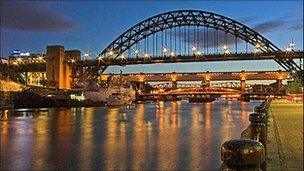 Ships and boats bigger and heavier than ever will soon be able to travel up the River Tyne.
The river is going to be made one metre (3.2ft) deeper after its latest dredging.
Sediment that comes from the upper reaches of the Tyne and sand that comes through the harbour entrance will be removed.
Around one million tonnes of soil will then be removed from the river to make it deeper.
It will then be moved to approved dumping grounds off the entrance of the port.
To maintain the depth, the river needs to be dredged two or three times a year.
Mike Nicholson, harbour master at the Port of Tyne, said that this was the biggest dredging operation since 1952 and was being done to maintain a competitive advantage for the Port of Tyne.
He said: "We're in the top 15 or 16 in the UK in terms of depth.
"A dredger is going up and down in a normal business but does it a bit slower.
"It only proceeds one or two knots as it vacuums the debris from the bottom of the river."
The Port of Tyne has recently seen the likes of 82,000 tonne cruise ship The Westerdam and HMS Ark Royal.
It is hoped the dredging will be completed by July.
Related Internet Links
The BBC is not responsible for the content of external sites.