Antiques Roadshow heads to Northumberland Hall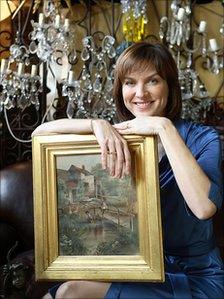 The Antiques Roadshow is to film at Seaton Delaval Hall in Northumberland, the BBC has announced.
An episode of the 34th series of the programme will be filmed at the hall on 14 July.
People have been encouraged to bring along items from family heirlooms to car boot bargains.
"We regularly see between 1,500 and 2,000 visitors on the day. Despite high turnout everyone will get to see an expert," said series Editor Simon Shaw.
Some of the stranger items brought along for inspection on the programme include uneaten pieces of Royal wedding cake and a life-sized model of a lion once used in a television series.
Presenter Fiona Bruce, said: "Exploring the human story behind every object is what makes Antiques Roadshow so fascinating.
"And everyone loves the agony and ecstasy of the 'what's it worth moment'. The Antiques Roadshow isn't just about antiques - it's history, beauty and drama all wrapped up in one."
The event will run from 0930 to 1630 BST.
Related Internet Links
The BBC is not responsible for the content of external sites.